Arrival Day
We came to El Dorado Royale to work, not to eat gourmet meals, or so we thought. How wrong we were!
Our trip to Mexico was twofold in purpose.
First, we would visit El Dorado Royale to do site visits within the chain of resorts owned and operated by Karisma. There were several in the area.  We were also planning to contact clients of Linda's co-worker. The co-worker was planning to be here with her clients, but had to stay stateside for personal reasons. That added to our agenda, but also allowed us to stay a few extra days.
Not a bad trade-off!
Second, the following week would be both a personal vacation and a chance to see more of the Riviera Maya, for both business and pleasure. Of course, pleasure for us means golf is probably involved!
As always, we were also looking for new places and ways to locate another Hydeout.  There can never be enough places that you would like to hang your hat and just find that relaxation location!
Our first night here we ate at Kampai, the only purely Asian cuisine restaurant on site. They told us at the desk when we checked in that we would probably need reservations; we showed up on the spur of the moment. However, we were seated in the time it took to enjoy a small glass of wine. Yay!
Linda had a very delicious chicken stir fry dish; I know, of course, because we share. I had a pork and veggie dish. We both liked that, too. My mind and body were tired. So, of course, I forgot to document what we devoured. Devoured is exactly the right word!
I know. The foodies among you want details. Where are the pictures?
Excuse #1: We did get here after a full day of travel, you see. Driving from Springfield, Missouri to St. Louis was 3.5 hours. St. Louis to Cancun via Houston was another 7 hours in the air, with the layover. After unpacking, and fourteen hours or so after we left home this morning, we finally had time for dinner.
Excuse #2: You must understand. I am not a millennial. I am, or was, 66 years old at the time of this visit. I was not raised to take pictures of all my food before a fork was inserted. Food arrives at the table, I eat!
See there? I forgot my new vocation for a minute. I'm no longer a carpenter (well, actually, I still am); I'm a travel writer. I am a blogger. I should be taking a picture, damn it! Oops. Maybe next time.
So, after all is said and done, we were we glad we made a good choice right off the bat, even if it was simply the closest restaurant to our quarters. As we were to find out later, there were no bad choices in restaurants at this resort.
Second Day
Monday was work day. This portion of our stay was, after all, a "fam trip", a familiarization trip. How can you promote it, as a travel writer (me), or sell it, as a travel agent (Linda), if you know little or nothing about the product?
We started about 9:00 a.m. and finally returned at 4:00 p.m.  After 5 site visits of other resorts we were tired of walking. We were also tired of viewing dining facilities, at least 4 at every resort, without being able to sit down and enjoy a meal.
Oh, don't misunderstand! I didn't say we didn't eat. I said we didn't get to be seated or take time to relish what we got to try. Part of the policy for most resorts is to let travel agents and writers sample the goods, so to speak. It's advertising! It promotes sales!
You just have to do it on the run. And take notes quickly!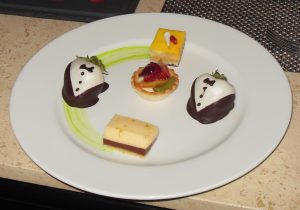 And this resort chain was no exception. The hors d'oeuvres we nibbled on were beautiful and tasty.  The chefs at each facility knew how to best present their food choices.  How else would a restaurant want to showcase its cuisine?
Monday is Beach Day
Back at our base of operations we spotted the notice for tonight's beach barbecue dinner. Now that sounded like a plan.
A simple b-b-q with a view of the ocean for good measure sounded like a really good option. What we got was much more. The first week of every month at El Dorado Royale is "guest chef week".  And there is a daily event planned to showcase different offerings in different settings. Today is the beach party!
Food was prepared under the guidance of one of this week's guest chefs, Dino Jagtiani. I didn't get the full meaning of "guest chef" until the next day, but, the delicious aromas wafting up from the beach should have been the first clue.
There were grilled meats: lean and tender pork loin, encrusted with herbs; chicken, so good they ran out far too soon; skirt steak with an amazing chimichurri sauce; marinated tenderloin of beef cooked to perfection, and all the trimmings. A very large salad bar and typical grilled Mexican corn complemented the protein offerings. Nobody was going hungry tonight!
I would have to say this was by far the best beach barbecue dinner I have ever attended. The food was outstanding, accompanied by our choice of wine, either a lovely Chardonnay or a rich Cabernet Sauvignon. Altogether, we found it to be an outstanding evening.
Our table companions were delightful.  Of course there was music! What more could you ask for after a "long day at the office"?
Fuentes on Tuesday
We had a preview of the venue for tonight's dinner as we toured our own resort on the site visit this afternoon. Here it is (pic below) when empty and quiet. Later it would be filled with people and delicious aromas of the food being prepared as part of the show!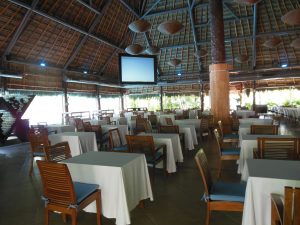 Tuesday is cooking show night
Dinner was a "tour of Mexico" on a plate.  Each course, there would be food items, recipes, or area favorites that were either locally grown or represented a specific area of Mexico.
The first course: salad from the Sinaloa area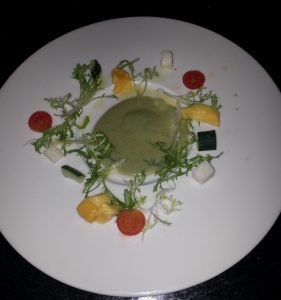 Cucumber, cherry tomatoes, mango, jicama, radish, and avocado with a creamy cilantro dressing. This starter was dainty and tasty, just perfect with the pairing of Prosecco wine from Italy.
Second course: from the Veracruz area – a seafood soup
Guajillo chile broth with shrimp, green peas, carrots and croutons paired with pinot grigio, again, from Italy.
I was enthralled with watching the preparation of this broth, made more vivid by the addition of shrimp shells added to the saute when making the base. They were ground up in the blender with everything else before straining. Never saw that before! But, there would be no arguing with the tasteful result.
Third course: Guerrero brings the Catch of the Day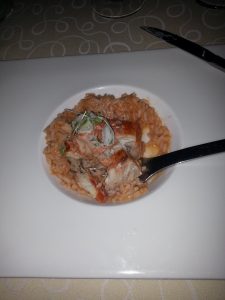 Talla style grouper with Sofrito rice, chayote salad with lime and cilantro. This tasty dish was accompanied by a Santa Barbara (California) Chardonnay. As you might notice, I couldn't wait to taste before the pic!  Mmmm.
Next up: Oaxaca area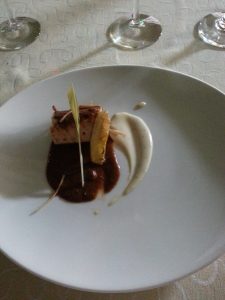 Chicken mole with plantain 3 ways, tortilla strips and corn shoots.
Mole is one of my very favorite Mexican sauces, and this one was outstanding! My only complaint would be that there wasn't enough of it. Another California wine was served with this entree, a Sonoma Zinfandel with lots of body and fruit forward flavor that enhanced the flavors of this dish well.
Dessert was all Mexico, all corn.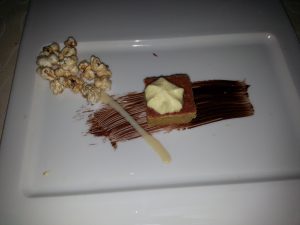 Cornbread, caramelized popcorn, sweet corn foam and rompope (an egg and corn syrup) over a chocolate sauce, followed by none other than Tequila Cream from Mexico. If you have never tried Tequila Cream, you have been missing out, in my humble opinion.  It's like dessert in a glass.
Wednesday at Tucanes Bar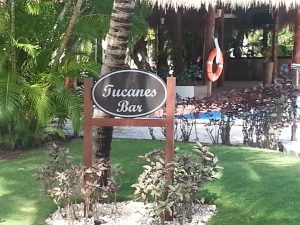 It was another cooking show featuring the same chefs as the previous night.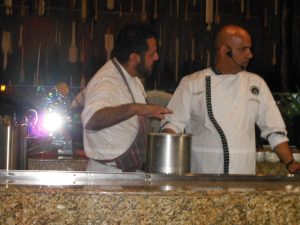 The vintner and partial sponsor for this evening would be Kendall Jackson Winery, well known is the USA, and for good reason.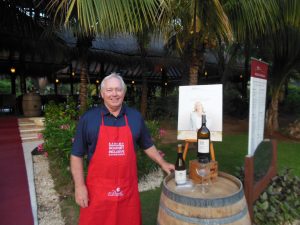 Piet, the resident Sommelier, was instrumental in bringing much more enjoyment to the evening's activities.  He continued to provide excellent pairings of wine to complement the food we would enjoy.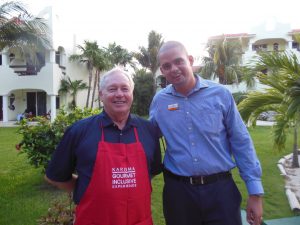 Thursday showcased the Santa Fe Grill
Tonight would be our last night here, and our last venue to try at El Dorado Royale.   Having experienced all the other restaurants here, we were pretty well expecting another great meal, and we were not disappointed!
But, we were surprised at the difference in dining procedure.
While we were waiting to order, all these great smelling aromas kept our attention as wait staff drifted by with dishes going to other tables.  What we learned was that all these things were part of the lead-in to dinner.
This was to be an evening of a "tasting menu".
We would have the opportunity to sample ALL those delicious dishes that had been going by our table. It rather reminded me of a restaurant back home that served "family style" side dishes to go along with whatever you ordered from their regular menu.  If you ever left that place hungry, it was your own fault.
Here we had:
Rolls , a standard here, as the first thing on the table.
Calamari, sliced and grilled, as tender and succulent as any I have had before.
Mussels steamed to perfection, dripping with broth.
Fingerling potatoes that were decadently buttery, but still crisp on the edges.
Salad, light, and palate cleansing, followed by…
Watermelon salad, sweet and refreshing.  And then,
Mini pizza (pic).  This one threw me for a minute. It looked like a typical pizza, but the taste wasn't quite Italian, so it wasn't out of place as I expected.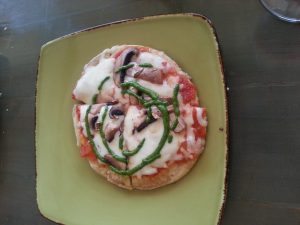 Mushroom soup.  Just wow!
I have never eaten so many courses and not got to the entree yet.  Surprisingly, I was nowhere near full.  The portions are carefully controlled to provide the best taste and experience, yet not fill a person up beyond capacity. The best was yet to come.
For my entree I ordered:
Grilled beef tenderloin on rustic mashed potatoes, with creamed spinach.
For dessert:
Soft chocolate cake with baked banana and vanilla sauce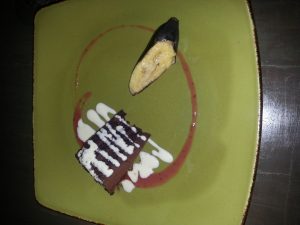 My wife went a different direction with the catch of the day, Mahi Mahi, over wild rice with a seductive Truffle mac & cheese (not gooey, but creamy, savory and tasty as can be).
She chose as her dessert: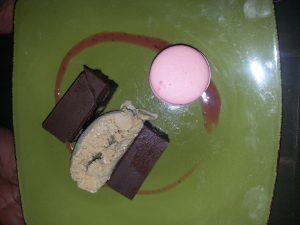 Rose macaron and brownies with coffee ice cream and fudge.
We both left here feeling like we just won a lottery, a food lottery.  We were totally and delightfully full, but not stuffed. And we had totally enjoyed our final evening of gourmet dining at this all-inclusive resort.
We were ready to move on to our next destination, though, because there are more places out there that we haven't experienced yet.  And we are always searching for another Hydeout where we can relax, rejuvenate, and replenish our energies for all the adventures yet to come.
Stay tuned…..
Save
Save
Save
Save
Save
Save
Save
Save
Save
Save
Save
Save
Save
Save