"There's three on and two out in the bottom of the ninth. The pitcher is ready, the count is full, and we have a rookie at the plate with a chance to give the home crowd a huge thrill if… "
I grew up playing baseball. When I went to that land of make-believe, or whatever you want to call it, to pretend my performance would make a difference in the outcome, that was the sport of choice. That was where I lived. My heroes were all  Major League ball players: Stan Musial, Curt Flood, Ken Boyer, Luis Aparicio, Bob Gibson, Ernie Banks, Roger Maris, Mickey Mantle. Yes, that dates me!
Whether I actually I stood at the plate, or hit fungoes or grounders to my friends in a pick-up game, thoughts of future prowess were always in the back of my mind. What little kid didn't think of making the big play, getting the big hit, winning the game, or "bringing home the bacon" for the pure pleasure of the feelings we got when we focused on doing our very best!
My baseball playing days are long over.
I play golf for fun and recreation now. And, most importantly, golf is now my sport of competition! Golf is also a part of the reason for this blog. It has become that much a part of what we do. I know! This is personal; this is not purely meant for the blog-o-sphere. This just helps to explain why we do what we do.
I learned to play golf somewhat when I was a teenager. I played a few times with friends using either borrowed clubs, or later, clubs my long-absent father left for my brothers and I to share. I didn't learn much, about golf anyway.
When my father's hand-me-down clubs were stolen, when I was about eighteen, I didn't bother replacing them. First, I couldn't afford to do that. Second, golf wasn't that important to me to even try to replace them.
I did not even try to play golf again until I was 35 years old. An inspecting engineer on a job I was working on became a good friend. He was, and is, an avid golfer. He loaned me a set of clubs to use to get started again in the game of golf. The game engulfed me with a fervor not felt for a very long time. I will forever owe him a debt of gratitude, not once, but twice!
At that time in my life I also hunted and fished in much of my spare time. When I added golf to my leisure activities, spare time became even more precious, and busy. There I was with work, a wife, two kids, hunting, fishing, golf… My wife gave me an ultimatum: one of them had to go. Much as I wanted to consider all the possibilities, that was not the time for jokes.
My friend, the engineer, used to problem solving, said: "I not only have another option, I have another extra set of clubs for her. Invite her to play with my wife and I, then you both can join us this weekend for a round."
Up until that time, I had never found another sport that my wife enjoyed other than water skiing. At that, she was very good! In the almost 45 years we have been married, I have never seen her fall when there wasn't an outside influence, like an inexperienced driver or an unexpected appearance of another boat in the way.
Baseball and softball were out. I still have her hand me things rather than toss or throw them to me. Unabashed, I keep reminding her she throws like a girl. We tried tennis, my second sport of choice in high school; wrestling was my first choice.
Nope! That wasn't going to work either.
Okay! Golf it is! She accepted the invitation and the challenge.
I won't tell you her score, though I do remember it to the very last stroke, but I will say that when she connected on every third or fourth, or even fifth shot, and it sailed down the middle of the fairway, she was bitten! She was hooked! The golf bug had a hold. Her comment, upon finishing, was: "I can do this! I liked this." Thanks, Friend! A lifetime of couples golf awaited!
That was 1985.
Greene Hills Country Club, in Willard, Missouri, which had just expanded from a 9 hole course to 18 holes in September of 1985 was the venue for our first ever tournament experience. In October of that year we played in their "Cat and Dog" scramble.  Thank goodness for the kind couple with whom we were paired. They were saints. They "awwed"; we laughed. They laughed; we cried. We shot 99 in a couples scramble. We placed dead-ass last.  Yet, we managed to have a lot of fun. The very next year we joined that club.
My wife and I have definitely enjoyed playing golf since that time, much of our play in competitive formats. As we continued to improve somewhat, we played both individual and couples tournaments whenever they were convenient and it was within our budget. We both happen to be very competitive, even with each other. We used to play matches to decide who would wash dishes, or who would cook.
The various venues where we have competed have been all over the place, intentionally. We do like variety!
We have both competed in the Springfield City Championships; she still does. I quit after I realized how much of a "good-ole-boy" system the men's competition was. Rules didn't matter; all that mattered was how connected one was! BS to that.
We competed in the couples event at Grand National in Opelika, Alabama for about 9 years. That event was started by Golf Digest, and was a premier event for couples, and still is, but the schedule is somewhat awkward. The timing of the tournament revolves around the football schedule of Auburn University. Tough competition there! So, it was hard to plan ahead for that one.
One tournament that is easy to plan for but not necessarily easy to commit to is the Myrtle Beach World Amateur, formerly the DuPont World Am, formerly the PGA Superstore World Am… You get the drift. Don't get me wrong! It's a great event, probably the foremost in its class, or genre. There are still some 3,000 to 4,000 golfers that compete there each  year on approximately 60 golf courses for 72 holes of competition. Wow! Only trouble is, the schedule calls for the tournament to be played the week before Labor Day. That's rainy season in the Carolinas; some would say it's even the beginning of hurricane season.
I'm not a mudder! I do not enjoy playing in the rain. I have played there 4 times and have yet to play a tournament without getting wet. Though the golf was good and the competition worthwhile, knowingly scheduling golf in the rain was not my idea of fun!
We tried golf in the desert. We liked it, and still do! That's one reason we have competed a few times in the Mesquite Amateur. Similar, but smaller than the World Am, it offers the same scope of experience, only drier.
Golf, for us, is almost a necessity! It is a diversion; it is lifestyle; it is a passion. It is also a Hydeout.
We have continually enjoyed taking our golf clubs whenever possible when we travel, to extend our experience in golf adventure to other states and even other countries.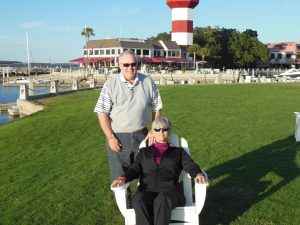 So, as we continue to search for different venues, different experiences in the world of golf, we would ask you to read along and share our love of the game.
Safe travels.
Keep it in the short grass!
Save
Save