Golf can be serious business or great fun. Tournaments make it more so, either way we look at it. So let's look at one of my favorite events for us non-professionals, the Mesquite Amateur Golf Tournament.
Let's dive right in to the basics of: Who, What, When, Where, and Why. Let's add How to the mix. So, let's take our Hydeout on a little adventure in reality.
Who?
I would hope that every serious golfer has taken the opportunity to give competitive golf a try. It's not for everyone, I know. But, if it fits your personality, your golf game, or just your sense of adventure, I would urge you to give it a go!
If you're reading this, you are already a good candidate. And, no, we don't all have to be serious, we just want to have fun, too. So, nobody should feel left out! Everyone is welcome.
There are different divisions for different age groups as well as varying handicap levels, and for both men and women competitors.
What?
The Mesquite Amateur, I think, is one of the premier stroke play events where amateurs can tee it up with competition from all over the United States, and elsewhere. The event is now in its 13th year, and still going strong.
It was started in 2003 in Mesquite, Nevada by Mesquite Gaming. The first tournament had 400 golfers in 12 flights competing for the overall title. This year, 2016, the event had 486 participants spread over 16 flights in 5 divisions or age brackets, Men 49 and under, Senior Men 50 to age 59, Super Senior Men age 60 to 69, Master 70 and older, and three Women's divisions bracketed by handicap.
This is a 54 hole, individual stroke play event played over a different course each of 3 days. The top finishers of each flight go on to an additional final round at a selected venue to compete for the overall title of the Mesquite Amateur.
When?
The last of May and first part of June is the schedule for the Mesquite Amateur. It usually starts after Memorial Day, with Tuesday, Wednesday and Thursday rounds forming the competition. The low players from each flight then are invited to play in the Championship round on Friday of that week.
Where?
One of the reasons we enjoy this tournament is the climate. It is DRY. It is desert golf.
We have been to the World Amateur in the Myrtle Beach area several times. I love that tournament, too, but I have never played there yet without being rained on at least once during the week. I have said it before: "I am not a mudder".  I have played in rain before and will again, I'm sure. But my preference is for sunshine and a dry golf course. If nothing else, Mesquite offers that.
It also offers a laid back atmosphere. Though all the amenities of a larger city are present, it has a small town feel, an intimacy that is welcoming. So, non-golfers who might be accompanying their mates, take heart. There are other things to see and do in Mesquite!
The current course venues are:
CasaBlanca Golf Club
The Palms Golf Club
Falcon Ridge Golf Course
The Canyons course at Oasis Golf Club
The Palmer course at Oasis Golf Club
Conestoga Golf Club
Coyote Springs Golf Club in Coyote Springs, Nevada.
Each of these venues is probably tougher than average, with plenty of desert landscape to view, and to dodge, and avoid for the benefit of your score. They are not pushovers, by any stretch of the imagination.
The evening events, which include a catered dinner developed and prepared by area chefs and served buffet style, are held in the CasaBlanca Events Center adjacent to the CasaBlanca Resort. Other participating hotels are Virgin River Hotel Casino and Eureka Casino Resort.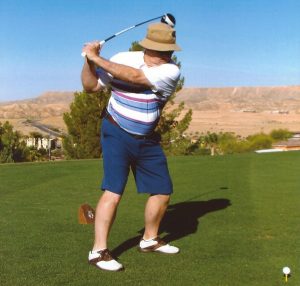 How?
Mesquite is located approximately 80 miles east of Las Vegas. That close proximity to a major airport enables many to fly in, rent a vehicle and get there with minimal problems or challenges.
Many from California or Arizona drive there. We tried that last year, but, the 18 or 19 hour drive from Missouri was not in the plans this year.
We stayed in a condo for the week that is situated nearby to the Event Center. That has worked out well for us for the last two years. The above mentioned hotels also offer special rates to tournament participants.
Why?
It's fun; we create a playground for entertainment at every course or tournament we compete.
It's nerve racking, because we always want to do our best, even when conditions are not what we are used to.
It's exciting; playing against other people can ramp up our expectations or our demons.
It's educational; we learn how to cope. We learn how we react in different situations and among other competitors. We can learn from our mistakes as well as our successes.
There's nothing like a little competition to get the blood flowing and the adrenaline pumping. At times, there's nothing better. At other times, leisure is the name of the game. I get it!
But, when honest competition is available, we think there's nothing comparable. Whether it's the club championship or any other stroke, or match play event, a contest is a contest. And competition brings out the real you! I didn't say the best you; I said the real you. And only you get to decide who the real you is!
But, when you want to play real golf against real golfers in a competitive situation, whether the outcome is for a prize or prestige or just for fun, tournament golf is the name of the game.
Relaxation and renewal is  why we always bring our Hydeout when we travel. We try to follow the time honored and well documented formula of: FAR, food, activity, rest. In our personal lingo that would translate to: EGS or eat, golf, sleep. That may a little simplistic for some, but it does cover all the parameters of necessity for human growth.
Ciao!
Save
Save