That, in a nutshell, is one of the first things I heard after the word "welcome".
Recently, Linda and I took our Hydeout to Denver for a 3-day conference she was invited to attend. After checking into Woolley's Classic Suites and taking advantage of their complementary happy hour, she and I got a text from her mentor to join them in the hospitality room set up for the Travel Agents Alliance Group, or TAAG.
When Linda started helping her mentor, Theresa Masterson, several years ago, it was to do research and to assist with wedding shows on a part time basis. Destination weddings and honeymoons are a large niche of the travel industry, and can be a lot of work. Their business was, at the time, affiliated with an umbrella company that had many franchises that could pool together and get better deals on travel packages for their clientele. When that company dissolved, there was still a need for support for the individual agents and companies that were left somewhat adrift. Hence, TAAG was established by co-founders Janet Ash and Elly Sterlacci, to replicate the benefits of the previous umbrella company without the negative ties some would remember.
During our welcome introductions a gentleman asked if I was going to participate in the meetings. Unsure of my agenda, my answer was going to be pretty much noncommittal. Before I could express my doubts, however, I was invited to join him and others to hang out, away from the busy workshop schedule.
Decisions, decisions!
I already knew that I would be welcome to attend the meetings along with my spouse, but I didn't know if my attendance would be a bonus or a burden. And here I was offered an alternative.
It was also pointed out, quite literally, that my badge had me labeled as a TAAG-along. Well, okay!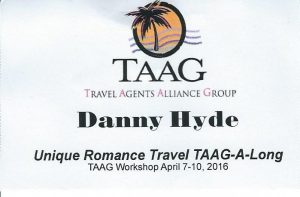 In one respect I was already in unofficial tag-along mode since this whole trip was for Linda's business needs. But, now there was another agenda, quite flexible, and very laid back, to consider. I'm in!
I actually attended the morning session for about an hour and two short presentations from vendors representing resort groups. It was very informative, but my presence was redundant. Linda could handle this quite well without me in the way. The plan now was to meet the TAAG-alongs at noon.
Our first stop was Firehouse Station #26. That was both the name and location of a local craft brewery. Outdoor seating fit our needs, and the weather cooperated nicely. Some of the more "experienced" spouses spoke of the perks and dividends that might be earned by the agents through various vendors when waging a successful seasonal campaign. Discussion was good; so was the beer.
Next up was Lowry Beer Garden, located adjacent to the old Lowry Air Force Base. This craft brewery had indoor and outdoor seating, as well. Some more mellow conversation was accompanied by a more mellow brew, for me, at least. A nice apricot and wheat beer was a nice way to end our outing.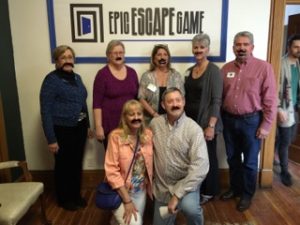 The evening agenda started with an adventure in TAAG-team-building. The entire group of agents and spouses went to Epic Escape Games. Divided into 6 groups of 6 or 7 members each, we were led to our assigned room, locked in and invited to solve games and puzzles to unlock the mystery and the exit door. We had a 60 minute time limit for the task. It definitely took teamwork and different modes of thinking and working together to figure out the "keys" necessary to escape. Our group was successful in getting out with about 6 minutes to spare. As the proof is in the pictures, you can see it was a tough task!
Whether a group actually escaped or not, it was still a good exercise to "people watch", before and after (there definitely wasn't time during the escape!).  I must admit I'm often guilty of that; it's probably part of being a bit of an introvert. It was both entertaining and educational to see who favored results and who was more focused on the process. Maybe I'm slightly nerdy that way, but it was interesting to experience.
There are many adjectives one could use to describe TAAG. The word inclusive would have to be near the top of the list. The fact that all of the activities were open for attendance by agents and spouses alike was proof of that.
Tonight's entertainment exercise was the Escape Game; the next evening would be a wine tasting we would all attend. Both events were followed by dinners sponsored by various vendors. Let me say that the vendors were excellent hosts who appreciated the business ties they were cementing, because the food was outstanding and each dinner venue was unique. It's not often I'm offered roast bison for a meal choice. And, yes, it was delicious!
Saturday's outing with the TAAG-alongs was at a local golf course, Buffalo Run, which suited me perfectly, even though I didn't come totally prepared. I joined Ron M., Glen Couch and Sean Ash, Janet's husband and a pilot, in a game of Robins (short for round-robin partners match) for nine holes of fun. My only regret was my usual: I didn't have my own clubs this time, either. Thank you TAAG-alongs for sharing!
Buffalo Run Golf Course
 To recap, this long weekend was a fun, productive adventure with fun and productive people. We are excited to have met this group of dedicated travel entrepreneurs. We learned about TAAG. We got excited again about the many ways and places we could travel and help others do the same. And we look forward to hearing about your travels and wish list, too!
Mahalo and Aloha!
Save
Save
Save